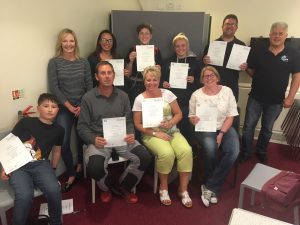 PRICE REDUCTION ON ALL NEW COURSES.
NEW LEVEL 1 COURSES.
We are planning to commence two new BSL Level 1 courses in September 2020. One course will be on a Saturday morning form 9.30 until 11.30.
The second course will also start in September 2020 and will be on a Wednesday evening, It will start at 18:30 and finish at 20.30.
Both these course will be at Bamber Bridge Methodist Church, Station Road, Bamber Bridge, Preston PR5 6NN. They are up to 20 weeks in duration and are aimed at complete beginners or persons with a limited amount of signing knowledge. There are no age restrictions and payments can be made by installments..
PLEASE REGISTER EARLY.
Please contact STUART on 07818 457605 for further information.
THERE IS NO PRICE INCREASE.
INTENSIVE COURSES.
COMPANIES, SERVICE PROVIDERS, COUNCILS. WE ARE CONTEMPLATING DELIVERING A WEEKS INTENSIVE LEVEL ONE COURSE IN THE PRESTON OR BAMBER BRIDGE AREA.
THE COURSE WILL BE MONDAY TO FRIDAY INCLUSIVE, APPROXIMATELY 8HRS PER DAY.
PLEASE CONTACT SIGNRIGHT FOR MORE INFORMATION AND TO REGISTER YOUR INTEREST.
WE ALSO DELIVER TWO DAY INTENSIVE TRAINING COURSES TO PROVIDE YOU WITH A BASIC INPUT INTO DEAF SIGNING*** 
NEW REDUCED PRICES.
BSL LEVEL ONE, IS A COURSE RUNNING UP TO 20 WEEKS.  
Entry Requirements for BSL Level One.
This course is for beginners who have no knowledge of British Sign Language. It will help you understand and communicate in British Sign Language with Deaf People. To find out what on what day the course will run, please go to BSL Course Information on this website.
Course Details
The qualification is divided into 3 units, each of which can be achieved separately. Candidates are required to pass all units to gain the qualification.
Unit 101 Introduction to BSL Topics covered: meeting people, using numbers, weather, transport, and directions.
Unit 102 Conversation to BSL Topics covered: at home – people, animals and objects, using numbers, interests and activities, and weather.
Unit 103 Communicate in BSL about everyday life. Topics covered: getting around, exchanging information, refreshments, and using numbers.
Attendance
Training is held at venues in Leyland, Chorley and Preston Lancashire.
BSL Level 1 is a 20 week course of 2 hours per session
Please ensure that you attend all sessions or as many as possible. It is your responsibility. Should you miss several sessions, extra tuition may be provided but at a further cost to your self.
Further Information
Please call us on +44 (0)7818 457605 or click here signrightstaff@yahoo.co.uk to request further information via email.
Many thanks.
Cost of Course
The cost of the course is £299 plus £96 for the three exams in total. Payments can be made by a £100 non returnable deposit, and then by monthly installments.
Refund Policy
If we do not receive your first payment before the course begins you will not be able to take your place. Course Fees are outlined on the Fee Schedule. Refunds will be made in the following circumstances – Course cancellation, withdrawal prior to commencement of course.
No refund will be made to students who fail to attend classes.
Course Information
Please contact the Sign Right BSL to request BSL Level 1 course information.
Next Steps
After completion, successful candidates can progress to BSL Level 2 Certificate.